I am Shari Green , a Licensed Mental Health Counselor specializing in individual, child and adolescent, and couples counseling. I have a private practice in Saint Cloud, Florida.
With over 10 years experience as a licensed mental health counselor, and as a graduate of the University of Florida and Nova Southeastern University specializing in mental health counseling, I currently serve as private practitioner working with a broad spectrum of clients. Among my areas of expertise are depression, anxiety, couples counseling, stress, and working with children and adolescents.
In addition to working as a mental health counselor, I have an EdS in School Counseling and worked in the Osceola County School System as a School Counselor for six years. While in the school system I served as a 504 coordinator, testing coordinator, Response to Intervention Coach and Families in Transition Liasion. I presented numerous workshops for school counselors and teachers and was recognized as Osceola Elementary School Counselor of the Year and Sunrise Elementary School Teacher of the Year in 2009. I am a member of the American Mental Health Counselor Association and the Florida Mental Health Counseling Association.
I emphasize developing a relationship with the client and working with them to explore their current struggles.
My therapeutic approach is to provide support and practical feedback to help clients effectively address personal life challenges. I integrate complementary methodologies and techniques to offer a highly personalized approach tailored to each client. With compassion and understanding, I work with each individual to help them build on their strengths and attain the personal growth they are committed to accomplishing. I have also completed Level 1 and Level 2 Training in Gottman Method Couples Therapy and use this in my work with couples. I am a Qualified Supervisor for Mental Health Counselors and have also completed certifications in Trauma work.
Faith Madrid, Licensed Mental Health Counselor
Life can be so difficult at times. Are you feeling stuck, depressed, anxious, can't seem to heal from a traumatic event, feeling like a failure as a parent, missing the intimacy you once felt with your partner, not sure how to move on after losing a loved one? Reaching out for help isn't always easy, but it is the first step towards positive change and growth.
I am here to walk with you on this journey; to help you discover your strengths, acknowledge limitations, uncover why things haven't been working and implement the changes necessary to move forward and begin the process of transforming into who you are meant to be.
I specialize with older teens and adults. My style of counseling is relaxed, what you see is what you get. I do not use one specific type of modality, rather I tailor each session to the needs, personality, and goals of each client. If I am not a good fit fo r you, I encourage you to continue looking until you find the right therapist, you deserve the help you need.
"No matter how hard the past, you can always begin again" ~ Buddah
Vivienne Cotton, MSc, LMHC, Cert. CBT, CAP, CCTP
Vivienne is a licensed Mental Health Counselor with more than 18 years of experience in the fields of Mental Health, Substance Abuse, and Trauma working with adults, adolescents and children, Veterans and their fa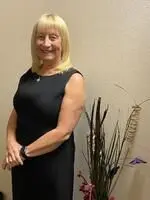 milies and couples including LGBTQ.
Vivienne completed her education in England at the University of Bolton, starting with a Bachelor of Science Degree (with Honors) in Psychology and Child Development and a second Bachelor of Science Degree in Applied Psychology. Followed by a Master of Science Degree in Psychology and a Diploma in Cognitive Behavioral Therapy.
Vivienne began her career in Psychology and Counseling in England working with adult perpetrators, and their victims, of Domestic Violence and other violent acts that caused distress and trauma. She also worked with clients who suffered from various mental health issues such as depression, bi-polar, anxiety, schizophrenia, psychosis, anger and self-esteem issues.
In 2005 she moved from England to Florida where she continued to gain experience working with mental health, Substance Abuse and Trauma.
She continued her education here in the State of Florida and became a Licensed Mental Health Counselor (LMHC), a Certified Addictions Professional (CAP), and a Certified Clinical Trauma Profession (CCTP).
She offers couples therapy, individual therapy, family therapy, and group therapy for Mental Health, Substance Abuse and Trauma issues to clients of all ages ranging from children, to Adolescents, Young Adults to Adults, the Elderly, couples and families using Cognitive Behavioral Therapy techniques.
She offers therapy both in person and via telemedicine.